The SaniDry™ CX Efficient Dehumidification System
A Self-Draining, Energy-Efficient Basement & Crawl Space Dehumidifier
What It Does:
The SaniDry™ CX Dehumidifier is a powerful dehumidification system that has been specifically designed for the unique environment provided by a basement or crawl space.
Our innovative system is small enough to fit into tight spaces, while its powerful 300CFM fan keeps dry air circulating throughout the space.
This dehumidifier is a self-draining system -- so there's no need to constantly empty collection trays. A Merv-11 air filtration system is included to filter mold, dust mite waste, and other allergens as small as two microns.
Advantages To Our System:
Removes Up To 109 Pints/Day
ENERGY STAR® Rated
Powerful 300CFM Fan
Self-Draining; Optional Condensate Pump
Operating Temp: 40°F-95°F
Easy Knob Operation For Adjustments
Installed With A MERV-11 Air Filter
A Warranted Solution For Your Home
Get a FREE Quote!
We can install our powerful dehumidifier system in your home! Our warranted system is a great way to effectively and conveniently keep your space dry -- and to keep mold under control!
At Philadelphia Basement Systems, we're standing by to help you! To schedule a free dehumidifier installation quote, contact us by phone or e-mail today! Our free quotes are provided to homeowners throughout our Pennsylvania, New Jersey, and Delaware service area, including Philadelphia, Newark, Reading and nearby.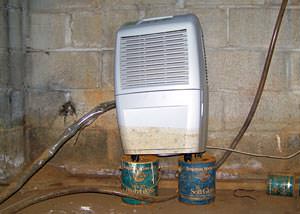 Dehumidifiers that are designed for above-grade spaces are optimized to dry room-temperature air.
When this dehumidifier is placed in the much cooler environment of a crawl space or basement, overall efficiency quickly drops, and it becomes much less effective and keeping the space dry.
Seal The Space, Then Dry It!
For the same reasons that you wouldn't heat a home while a window was open, it's not a good idea to dehumidify a below-grade space that has not been sealed with an airtight vapor barrier.
Moisture will constantly enter your basement or crawl space through concrete, grout, exposed dirt, and through open vents and windows.
Plumbing leaks and groundwater flooding, if present, will also significantly contribute to moisture, and should be addressed before any dehumidification takes place.
Sealing your crawl space with a vapor barrier, airtight doors, and vent covers can protect a crawl space from this moisture intrusion.
Similarly, sealing your basement with waterproof floor matting and wall paneling will hold back much of the moisture that would otherwise pass in.
Installing panels of rigid foam insulation on the walls can do double duty for your basement -- providing both a vapor barrier and an energy efficiency upgrade for your home.
Specifications:
Model
CX-109
Air Circulation
300 CFM
Power
700 watts @ 80°F and 60% RH
Supply Voltage
115V - 1 phase - 60HZ
Current Draw
6.4 Amps
Energy Factor
290 L/kWh
Operating Temp.
40°F Min.; 95°F Max.
Sized For
2200 Sq. Ft. - Typical
Minimum Performance At 80°F and 60% RH
Water Removal
109 Pints/Day
Efficiency
6.1 Pints/kWh
Air Filter
MERV-11
Efficiency
Standard 65% Efficient, ASHRAE Dust Spot Test
Size
15-3/4" x 10-1/4" x 1"
Power Cord
10', 110-120 VAC, Ground
Drain Hose
9/16" ID x 3/4" OD x 8' Direct Gravity Drain Hose
Dimensions
Unit
Shipping
Width
20"
22 1/4"
Height
15"
39 3/16"
Depth
17 1/2"
22 5/8"
Weight
86 lbs
99 lbs
* Standard: This unit conforms to UL STD 474 and CSA standard C22.2 No. 92
Install A SaniDry™ CX In Your Basement Or Crawl Space!
When it comes to creating a drier, healthier, and more energy efficient basement or crawl space, Philadelphia Basement Systems is the company you're looking for! Our experienced professionals have the training, certifications, and warranted products you need to keep your home dry all the time!
For a free dehumidifier quote for your basement or crawl space, contact us by phone or e-mail today! We proudly serve the Pennsylvania, New Jersey, and Delaware area, including Newark, Philadelphia, Reading, nearby Wilmington, Camden, Trenton, Bensalem, Vineland, Chester, Cherry Hill, and the surrounding areas.
Looking for a price? Get a no cost, no obligation free estimate.